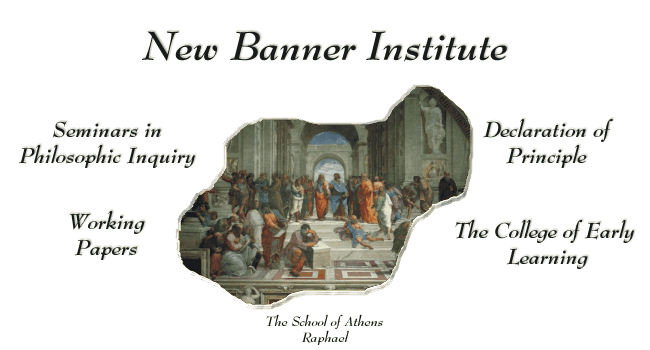 Seminars in philosophic inquiry, open-forum discussion, logical analysis, and fundamental research in metaphysics, epistemology, ethics, psychology, economics, political science, aesthetics, and cognitive sciences.
Working papers written by New Banner Institute seminar participants and research directors, reprints of selected essays and excerpts, and a bibliography of publications covering a wide range of technical topics and policy issues.
The College of Early Learning, a Montessori primary, elementary, and secondary school, where children of seminar participants reveal how they learn to learn, providing scientific insights into the nature of consciousness.
Declaration of Principle, in which the Institute's founders set forth the basic principles upon which they inaugurated the work of the Institute in 1968.
General information about the New Banner Institute.

THE NEW BANNER INSTITUTE, INC.
P. O. Box 711
Columbia, South Carolina 29202