Diogenes of Sinope
(4th century BCE.)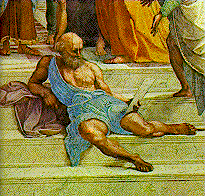 RAPHAEL, The School of Athens (detail): Diogenes.

Documents
---
Diogenes of Sinope (4th cn. BCE.) (html, at John Fieser's Internet Encyclopedia of Philosophy)
Hegel, Diogenes from Lectures on the History of Philosophy (html, at Marxists.org's Hegel by HyperText)
Back to clickable image of Scuola di Atene.

[Home]
[Introduction]
[Seminars]
[Working Papers]
[Glossary]
[Reprints]
[Bibliography]
[College of Early Learning]
[Links]

The New Banner Institute, Inc.
P. O. Box 711
Columbia, South Carolina 29202
Administrative Director

Katherine E. Macedon
Telephone: (803) 772-3317